Dr. Patricia Shea
Clinic Owner and Medical Director
When she was five years old, Dr. Patricia Joy Shea, who grew up in the New York City suburbs, told her mother and her teacher that she wanted to go to "cat school."
A lifelong cat lover, it was only after employment adventures in journalism, tourism, and the arts, that she really did go to cat school (also dog school, horse school, and cow school), graduating with honors and at the top of her class in the combined Oregon State University/Washington State University Doctor of Veterinary Medicine program in 1999.  Dr. Shea loved all of veterinary school, but cats were always her favorite, and she has been a member of the American Association of Feline Practitioners ever since freshman year of veterinary school.
After graduation, Dr. Shea completed an internship in small animal medicine, surgery, and diagnostic imaging at Auburn University's College of Veterinary Medicine in Alabama.  In 2007, she completed training in small animal acupuncture and traditional Chinese veterinary medicine at the Chi Institute in Florida. Dr. Shea is also a long-term member of the International Veterinary Academy of Pain Management and the Humane Society Veterinary Medical Association.
Read More
Dr. Shea began working at CatCare in 2002 and assumed ownership of the clinic in 2016; she also has extensive experience in emergency and critical care medicine from her internship and subsequent emergency clinic work.  Annually Dr. Shea completes 50 or more hours of continuing education exclusively in feline health care topics. In 2017 she was one of a few Americans who completed a 10-month Distance Education in Feline Medicine course sponsored by the Centre for Veterinary Education of the University of Sydney in Australia.  This course allowed her to work closely with North American and Australian specialist tutors in feline medicine, and involved monthly in-depth study of different individual feline medicine subspecialties and writing case reports about her own patients.
Her regular summaries of current peer-reviewed veterinary journal articles pertaining to feline wellness, medicine, and surgery are read by veterinary professionals and cat lovers around the world through the bimonthly American Association of Feline Practitioners online newsletter and the Winn Feline Foundation Cat Health News Blog (https://www.winnfelinefoundation.org/education/cat-health-news-blog), so CatCare's patients always receive the benefit of the most current feline medical knowledge available. These summaries are also disseminated by the International Society of Feline Medicine, so cats all over the world benefit from her posts. In spring 2019 Dr. Shea participated as a content outline reviewer for a multi-module online course for veterinary professionals under development by the American Association of Feline Practitioners.
With her diverse educational and professional background in journalism, the arts, business, and the sciences, including veterinary medicine, Dr. Shea brings a wealth of knowledge and experience to her calling as feline medicine practitioner and clinic owner.  She loves the challenge of helping to manage complex and multiple disease states in her patients. "It is the cat's prerogative to have as many diseases as they want, and they frequently have more than one."
In her spare time Dr. Shea creates beautiful artwork in watercolor and colored pencil, with both large and domestic cats as her subjects.  Her work is in private collections in the USA, Canada, and England, and has been featured in shows and on the cover of the Journal of the American Veterinary Medical Association.  She lives in the Eugene area with her two rescued cats, Lila and MeiMei (means "younger sister" in Chinese).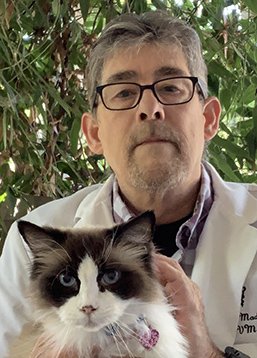 James Maddox
DVM, Associate Veterinarian
Dr. Maddox graduated from Oregon State College of Veterinary Medicine in 2003 after completing a joint program in small animal medicine and surgery at Washington State University. Since graduating, Dr. Maddox has practiced primarily in the Eugene area. He joined the CatCare team in 2017.
Dr. Maddox is committed to insuring all his patients receive the best outcome and kindest care possible whether its preventative care, nutrition, dentistry, surgery or the treatment of patients when they are ill.
Over the years Dr. Maddox has become proficient at the special care and handling needs that are unique to cats to help reduce the stress of leaving home for a visit to the veterinarian.
Dr. Maddox practices primary care medicine and performs numerous dental procedures each week as well as any needed surgical procedures.
He shares his home with two Ragdoll cats, Tippy and Callie, and two pugs, Emma and Katie.
His outside interests include hiking and camping, music, exploring on his motorcycle and a passion for cooking very tasty food.